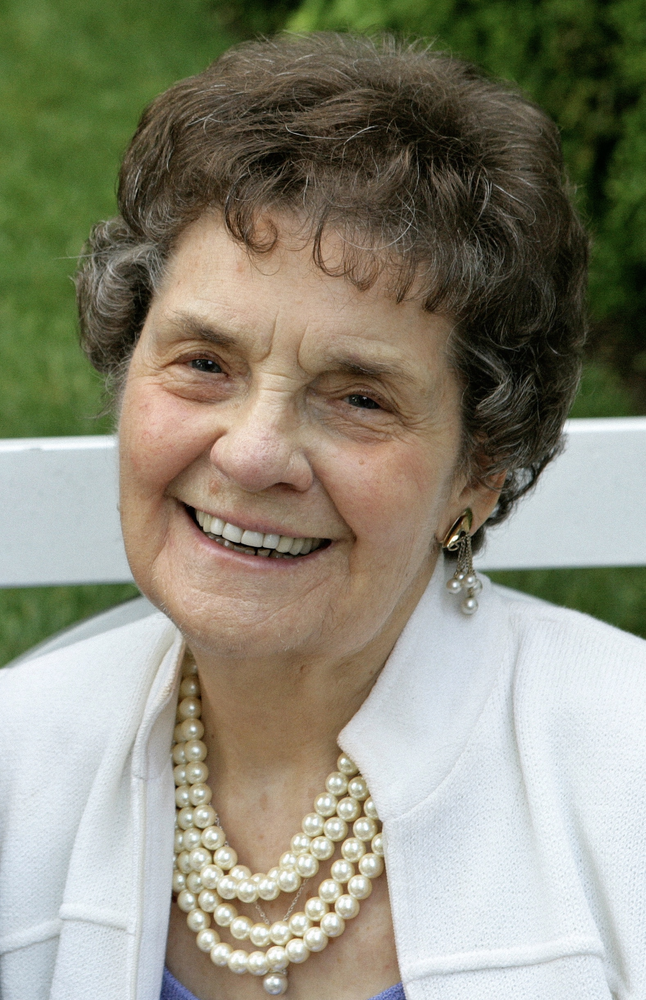 Obituary of Audrey J. Leef
Dr. Audrey Janet Vincentz Leef, age 96, of Mountain Lakes, NJ, passed away peacefully at home on December 7, 2018. One of Audrey's proudest accomplishments was being the first woman to achieve a Master's degree in Mathematics from Stevens Institute of Technology in 1947. Not only did this speak to her passion for mathematics and academic achievement, but also her deeply held belief in woman's equality. Stevens also introduced Audrey to the love of her life and husband of 70 years, George Robert Leef, whom she met in a Vector Analysis class in 1946, and whom pre-deceased Audrey in December 2017. Prior to attending Stevens Institute, Audrey graduated with honors from Montclair State University (BA 1943), and devoted her life to teaching mathematics, as well as serving Montclair in such capacities as the University's Foundation Board of Trustees. Audrey was an Assistant professor in the Department of Mathematics from 1966 - 1992, when she became a Professor Emerita. Her passion was helping students who struggled with math, and she gave up her lunch hours for the lines of students waiting outside her office for help. Audrey often commented on the rigorous schedule so many students managed, including those working full time to support their families. Dr Leef held tremendous admiration for her students who worked so diligently to receive an education. Dr. Leef was awarded an honorary doctor of letters from Montclair University in 2009. During her acceptance speech, Dr. Leef noted that every building on the extensive Montclair campus was named after someone important to the University, starting with its very first President. Audrey, who had attended Montclair since age 16, said that she had personally known each and every one of those named. Dr Leef also earned a doctorate degree in education from Rutgers University (EdD 1976). Dr. Leef was also a life time member of the American Association of University Women and over many decades held local, state, and national offices in the organization. In 1985 Dr. Leef had the opportunity to fulfill a lifelong dream, and became an ordained minister. This was something not open to women earlier in her life, and while Audrey led a life of service to her church, from singing in the choir (since 1955) to teaching Sunday School, and serving on church Boards, she had always wanted to be a minister. Dr. Leef earned her Master of Divinity from Drew University and went to work as a youth minister at The First Congregational Christian Church of Irvington, NJ for 5 years. Audrey stayed in touch with those parishioners through the end of her life. Audrey was also a campus chaplain at Montclair as well as an assistant minister for her hometown church, The Community Church of Mountain Lakes, where she was later named pastor emerita. She remained active in volunteer work for the Community Church until her death and participated in the choir as recently as this past May. Audrey's husband, Bob, first introduced her to skiing and they enjoyed skiing weekends at Bellayre Mt in NY, but also traveled the world to ski, including New Zealand, The Andes in South America, Argentina, Europe and throughout the United States. Audrey loved to travel, and had circled the globe, visiting every continent, which included trekking in Nepal at age 75. Audrey and Bob (George Robert) Leef (d. Dec 16, 2017) were married on June 21, 1947 in South Orange, NJ. They adopted 4 children, Eric David (d. Nov 8, 2014), Janet Lucile, Mark Jonathan, and Carol Audrey. Audrey is survived by daughter-in-law Gail Leef, daughter and son- in-law Janet and Rick Sherlund, son Mark Leef, and daughter Carol Leef; grandchildren Eric Leef, Jr, Joel Leef, William Sherlund, Benjamin Sherlund, Samantha Leef and Chris Schade, Cheyenne Leef, Hunter Leef, Amie Leef McAllister, Kathryn Leef Grieg, Christopher Leef Grieg, and great grandchildren Aidan Bump and Phoenix Leef. Audrey also leaves many loving nieces and nephews and their families. The Leef family would also like to thank the many dedicated, loving caregivers who allowed Audrey to stay in her beloved home, by the picture window looking over the lake she loved so much. A memorial service will be held on December 14, 2018 at noon at The Community Church of Mountain Lakes, 48 Briarcliff Road, Mountain Lakes, NJ. A luncheon reception for all will follow immediately at The Mountain Lakes Club, 18 Lake Drive, Mountain Lakes, NJ. Donations in memory of Dr. Audrey Leef can be made to the Montclair State University Foundation, 1 Normal Avenue, Montclair, NJ 07043 in support of the Rev. Dr. Audrey V. Leef Scholarship fund, or to The Community Church of Mountain Lakes.
Memorial Service
12:00 pm
Friday, December 14, 2018
The Community Church
48 Briarcliff Rd.
Mountain Lakes, New Jersey, United States
Luncheon to follow afterwards
Mountain Lakes Club 18 Lake Drive Mountain Lakes, New Jersey 07046
Share Your Memory of
Audrey
107 Essex Avenue
Boonton, NJ 07005
Richard J. Codey, Owner, NJ Lic. #3175 | Garrett C. Jones, Manager, NJ Lic. # 3904
Phone: (973)-334-5252