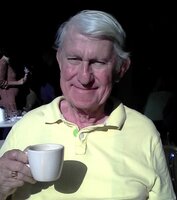 Oscar Landrum Trippe III
Oscar Landrum Trippe, III, 85, of Boonton, NJ, passed away suddenly on Tuesday, March 14, 2023.
Oscar was born to Oscar L. Trippe II and Mildred (Munsey) Trippe in Montclair. He grew up in Orange, NJ and graduated from Orange High School in 1955. Oscar worked at Home Fuel Oil. Later in life he worked as a contractor for himself until he retired.
Oscar loved gardening and traveling. He was a Boy Scout leader in Orange for 11 years.
Oscar is survived by his beloved partner of 37 years, Karen Gandy; his children, Michael, William and Lori; his granddaughters, Jessica and Emily; his sister, Irene; and his nieces, Val and Leah; as well as many friends. He was loved by his nurse, Tomika and his caregiver, Connie. His brother, Richard, predeceased him.
Services were private and provided by Codey & Mackey Funeral Home of Boonton. To share a condolence please visit www.codeymackeyfh.com. In lieu of flowers, donations in Oscar's memory to the Boonton Kiwanis First Aid Squad, P.O. Box 16, Boonton, NJ 07005 would be appreciated.