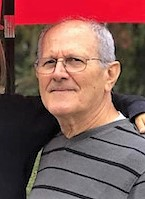 Victor Lorino
Victor Lorino, 81, of Boonton, NJ, passed away Tuesday, March 14, 2023, after battling Lewy body dementia.
Victor was born in July 1941 to John and Maria (Lauria) Lorino in Lingua, Salina, Italy. He immigrated to the United States when he was eleven years old and settled in Garfield. Victor served in the U.S. Army during the Vietnam War. After the war, he married Corlas Ann Raby and had two daughters, Paula and Lisa Lorino. He owned a barber shop, Victor's Men's Salon, in Boonton for over 40 years. In addition, Victor invested in real estate and built the family's main residence in Montville.
Victor enjoyed the outdoors, making wine, the beach, going to the casinos, traveling to Italy and Australia and spending time with his family.
He was predeceased by his sisters, Marina Costa of Italy; Lucy Hardwick and Josephine Pescatore of NJ. Victor is survived by his daughters, Paula and Lisa; his granddaughter, Hailey; his brothers, Salvatore Lorino of Austrailia, John, Tony and Jerry Lorino, all of NJ; his brother-in-law, John Pescatore and many nieces, nephews and cousins in NJ, Italy, and Australia.
A Memorial will be held Saturday, March 25th from 9:00am to 12:00pm at Codey & Mackey Funeral Home of Boonton. To share a condolence with the family please visit codeymackeyfh.com.