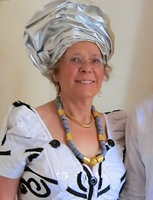 Katherine Frances "Kate" Agbesi
Katherine "Kate" F. Agbesi, 76, of Montville, NJ, passed away on Friday, March 10, 2023, after a valiant fight with cancer.
Kate was born to Neal A. and Elizabeth S. (Cooper) McCarthy in Dover, NJ. She grew up in Rockaway Township and graduated from Morris Hills Regional High School. Kate earned a bachelor's degree from St. Elizabeth College and her master's from Fairleigh Dickinson University. She was a vice president of corporate policy in the pharmaceutical industry, lastly for Pfizer before retiring.
Children were very important to Kate and while she didn't have her own, she was blessed with being a stepmom. She never considered them her stepchildren though – she loved them wholeheartedly. Children also led her to another calling – being the president and director of Volta Hope Childrens Home School in Alavanyo, Ghana. Kate was very proud of the work she and the others did to improve the lives of the orphans and other students in her care. One student, Deborah, was especially close to Kate's heart. Deborah was born with leg deformities and was flown to the U.S. for surgery. She is now living a much better life due to everyone's efforts.
Kate was a member of the Montville Reformed Church and the Eastern Star Atlas Chapter #99. She enjoyed baking and cooking for her family and friends.
Kate is survived by her beloved husband, Ernest Agbesi, with whom she celebrated 10 wonderful years of marriage last summer; her children, John Curlo and Donna Capestany (Robert); her grandchildren, Bryan Perez, Michele Brown (Phillip) and Hannah Nicole Capestany; her great-granddaughter, Salem Katherine; her sibings, Neal McCarthy (Denise) and Elizabeth Dandino; her mother-in-law, Elizabeth Brampah; her brother-in-law, Evans Agborgbortsi; her sister-in-law, Christine Agborgbortsi; her nephews, Danny Dandino, William McCarthy, Neal A. McCarthy III; as well as many friends.
Services were private and arranged by Codey & Mackey Funeral Home of Boonton. In lieu of flowers, donations to Volta Hope LLC, (501c3), 26 Cobblestone Terr, Montville, NJ 07045 would be much appreciated.