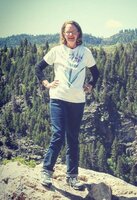 Laura Catherine Campbell
Laura Catherine Campbell, 72, of Kinnelon, NJ, passed away peacefully at home on Sunday, March 5, 2023 after a long battle with cancer. She was born in March 1950 in Dover, NJ, to Roy and Mildred Thoren and is survived by her husband, David Campbell; children, Cadie and Jack Campbell; and brothers Roy and John Thoren.
Laura graduated from Dover High School in 1968, then worked as a secretary for 9 years. She graduated in 1980 from Morris County Vo-Tech as a licensed practical nurse and went to work at Morristown Medical Center. Laura was a nurse at Morristown Medical Center for 30 years and it is there where she met most of her extensive friend group - lovingly named the Pizza Group. She met Dave through a friend at the hospital and they married in April 1983 and settled in Kinnelon. Laura enjoyed summers at the lakes around town and an annual trip to Wildwood, NJ with the Pizza Group. Laura made friends wherever she went but was also good at keeping them; maintaining a life-long friendship with her best friends from middle school, Becky and Louise.
Laura was a devoted mother to her children, she attended all of their sports games and events and even referred to herself as a "taxi-mom." She loved to take photos and was the unofficial photographer for friends and family alike. Laura was a compassionate nurse, a loving friend, and was known for having a smile on her face at all times. She will always be remembered for laughing "Ho Ho Ho!" in all her emails and texts.
A Celebration of her Life will be on Saturday, April 22nd from 11:00 am to 2:00 pm at Codey and Mackey Funeral Home, 107 Essex Ave, Boonton NJ. In lieu of flowers, donations to St Jude's Children's Hospital, the American Cancer Society or your favorite charity would be appreciated.