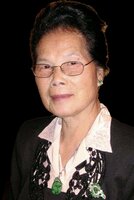 King Fung Chung
King Fung Chung, 84, of Hillside, NJ passed away on Sunday, February 5, 2023, at Morristown Medical Center.
King was born in Toishan, Kwangtung, China to Ching Lin Chu and Chuen Hang Chan. She was a humble, hard-working mother, who always put her family first. She loved spending time cooking for her family and enjoyed watching her grandchildren, nieces and nephews grow like her beautiful flower garden.
King started her career as a seamstress in Hong Kong and mastered her craft when she immigrated to the U.S. She went on to own a successful women's fashion manufacturing business in New York City for more than 40 years. She was admired for her strong leadership in business, generous philanthropy and most of all, her unwavering love of her family.
King is survived by her son, Hung Chung, and his wife, Tina Chung; daughter, Yin Becker; son, Edward Chung; and grandchildren, Tyler Becker, Samantha Becker, Colin Chung, Lauren Chung and Dylan Chung.
A visitation will be held at Codey & Mackey Funeral Home, 107 Essex Ave, Boonton NJ, on Friday, February 10th between 3:00 - 6:00 pm. Flowers can be sent to Codey & Mackey or donations may be made to www.heartofdinner.org.
The family wishes to extend their heartfelt gratitude to all who provided King with love and friendship throughout her life.