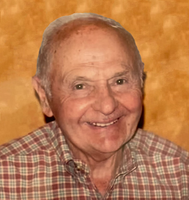 Benito F. "Benny" Conca
Benito F. Conca, 88, passed away peacefully at home in Boonton, NJ on Saturday July 16, 2022.
A lifelong Boonton resident, Benny—as he was known to all—graduated from Boonton High School in 1951 and attended Fairleigh Dickinson University. He was trained as a carpenter and was a skilled wood craftsman, always learning new design techniques. His beautiful handiwork ranged from the most utilitarian items to genuine works of art. His family will enjoy these treasures for years to come.
After a short time working in home construction, he joined his family at Conca & Maviglia Inc., a scrap iron and metals dealer in Dover. He became a partner and spent his career there, until he retired in 2007 after selling the three-generation business.
Benny was a daily communicant at Our Lady of Mount Carmel Church and an usher at the 7:30 am Sunday Mass for most of his adult life. He was an honorary life member of the Knights of Columbus, Council 1954.
Benny had a variety of interests besides woodworking: an avid sports fan, he particularly enjoyed football and baseball; and he liked to attend antique car and truck shows. He fondly recalled his travels throughout the United States, Europe, Australia and the Holy Land. Above all, he loved being with his large, extended family. Benny was a loving uncle and devoted friend to all who knew him.
He was predeceased by his parents, Vincenzo and Maria Conca; his brothers and sister and their spouses, Louis (Mary), Alfred (Eufrasia), Phyllis C. Laurenzi (Aristide) and Samuel (Margaret); and his nephew, Paul.
Benny is survived by his nieces and nephews, Vincent, Frank (Carmella), Marie (Greg), Maria (Roy), Phyllis (Dennis), Adeline, Thomas (Barbara), Patricia, Maria (Michael), Sandra, John (Paulette), Mark (Margarethe), Francesca, Christopher, Nancy (Peter), Louise (Tony), Vincent (Lauren), Mary Theresa and Roseann (Glenn). He is also survived by many great and great-great nieces and nephews, and several cousins and their families.
Visitation will be Wednesday, July 20th from 4:00 to 7:00pm at Codey & Mackey Funeral Home, Boonton. A Mass of Christian Burial will be held on Thursday, July 21st at 10:30am at Our Lady of Mount Carmel Church, Boonton. Interment will follow at St. Mary's Cemetery, Boonton. To share a condolence please visit www.codeymackeyfh.com.
To view Benny's Funeral Mass live at 10:30am on Thursday, please click HERE and once you are on Our Lady Of Mt. Carmel's website, scroll down to Funeral Livestream.
Memorial donations may be made to Our Lady of Mount Carmel Parish or the Boonton Kiwanis First Aid Squad, PO Box 16, Boonton, NJ 07005.