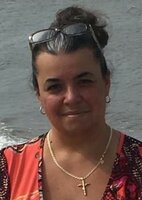 Mary Giordano
Mary Giordano, 55, of Boonton, NJ, passed away suddenly on Saturday, May 14, 2022.
Mary was born to Rodolfo and Dolores (Fernandez) Giordano in Summit, NJ and grew up in Maplewood, NJ. She graduated from Columbia High School and went to work as an Assistant Manager at Ocean State Jobbers Inc.
Mary enjoyed taking trips to the Jersey shore, Lancaster, PA and the family's vacation summer place in PA. She enjoyed crafts and cooking for the family, and spending time with her family, especially her daughter, Isabella.
Mary was predeceased by her parents and her beloved husband, Elliot Valentin. She is survived by her daughter, Isabella; her brothers, Rodolfo (Rudy); Louis (wife Patricia); and Michael (wife Darlene); her nieces and nephews, Rodolfo (Rudy) Jr.; Anthony and Nicholas; and Lauren, Lindsey, and Michael; her loving cousins, Luiza Giordano; Tisha Giordano (husband Tony DaSilva, children, Michael, Anthony, and Nicholas); and Nancy Giordano (husband Angelo Valentino, children Angelo and Amanda); and her aunts, uncles and cousins in Brazil. Mary will also be missed by many friends and colleagues.
Visitation will be Wednesday, May 18th, from 9:00 to 10:30AM at Codey & Mackey Funeral Home in Boonton. A Mass of Christian Burial will be celebrated at St. Catherine of Siena Church in Mountain Lakes at 11:00AM. Burial will follow at Gate of Heaven Cemetery in East Hanover.