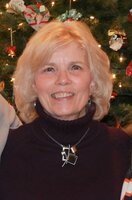 Mary K. "Missy" Mack
Mary K. "Missy" Mack of Boonton Township, passed away on Thursday, March 31, 2022 after a short illness, but mostly of a broken heart. She was born in 1943 in Orange, NJ. Her parents, Mary and Stan Knowles raised Missy and her siblings in Gillette, NJ, Nyack, NY and Bethesda, MD. She began her career with Marshall Fields in Chicago. Missy changed professions when she drove back to NJ with her two children, dog & cat in a U-Haul, towing her car. The family settled in Boonton in 1977. She worked for Dr. Richard Cabana for many years and eventually retired from Delta Dental in 2012.
Missy was an active member with the NJ Dental Assistants Association and held the treasurer position in her local chapter for 25 years. Over the years she attended several conventions for the organization, always looking forward to meeting up with colleagues. Missy was a founding member and player for the Boonton Women's Softball League. She enjoyed traveling across the country taking pictures and enjoying good restaurants with Steve during their retirement years, especially their time in Sarasota, FL. She loved a good concert, and many Broadway shows. Some of Missy's favorite performers included Neil Diamond, Cher, and the Trans-Siberian Orchestra. But above all, a good cup of tea and a lottery win was all she needed.
While her two children were the light of her eyes, her six grandchildren, aka her "kitty cats", became her pride and joy. Known as "Memom", she loved to spoil her grandkids every birthday and holiday. She could always be heard cheering from the sidelines, especially since she was an avid sports fan.
Surviving Missy are her daughter, Lori (John) Whritenour; her son, Jay (Julie) Mack; her grandchildren, Elysia, John, Jason, and Kaylee Whritenour; and Deegan and Carly Mack; her brothers, Bill (her twin) and Greg Knowles; her stepsisters, Jean Haggas, Barbara Seltzer, Carol Bruce; her cousins, Pam, Jeff, and Steve; many nieces and nephews and all her wonderful friends. Missy was predeceased by her parents; her stepsister, Katherine Schutt; and the love of her life for 30 years, Stephen Guyette.
Services were held privately for the family under the direction of Codey and Mackey Funeral Home.
Extended family and dear friends are kindly invited to a Celebration of Life on Saturday, May 14th from 12:00 to 4:00PM at the Boonton Elks Lodge, 125 Cornelia St, Boonton. Please contact loriandjaymack@gmail.com for more details.
In lieu of flowers, donations made in Missy's name to either JBWS, P.O. Box 1437, Morristown, NJ 07962 or Boonton Kiwanis First Aid Squad, P.O. Box 16, Boonton, NJ 07005 would be deeply appreciated.