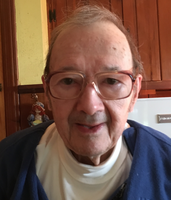 William E. Paul, Jr.
William E. Paul, Jr., 89, of Denville, NJ passed away at Boonton Care Center on Sunday, August 22, 2021 after a short illness.
Bill was born to Ruby (Davis) and William E. Paul, Sr. He served in the U.S. Army from 1952 – 1954.
Bill was predeceased by his parents; his loving wife, Thordis "Toots" (Christensen); and his brother, Joseph Paul of Orem, UT. He is survived by his stepdaughter, Sharon Frauenheim; his sister-in-law, Della Paul; his goddaughters, Evelyn Donegan and Norma Abrunzo; several nieces and one nephew.
Services are private and provided by the Codey & Mackey Funeral Home of Boonton. Donations in Bill's memory to the American Cancer Society would be appreciated.