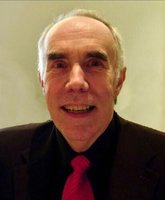 Paul Nauer
Paul Nauer-husband, father, grandfather, uncle, police sergeant, airman, legend extraordinaire and aficionado of the inappropriate, passed away on Sunday September 27, 2020. After surviving the 60s, the Air Force, a police career, fatherhood, open heart surgery, a stroke, cancer, multiple brushes with death and COVID-19, he passed peacefully surrounded by the family he built.
He was a passionate sportsman who enjoyed canoeing, hiking, archery, running, weightlifting, shooting and biking. He was also a voracious reader, reading upwards of one hundred books a year for most of his life, which garnered in him a rich lexicon, verbatim recitation of Hamlet's soliloquy, and the grand depths of military history, to name a few. He was a generous-hearted man who helped everyone who encountered him to learn, laugh, and live as fully as he did.
We who have survived him are better humans for having known and been loved by him. May we always strive to be as generous, curious, hilarious and vivacious as he was.
Walk-through visitation will be held at the Codey & Mackey Funeral Home, 107 Essex Avenue, Boonton, NJ on Friday, October 2nd from 12-2 pm and 4-6 pm. A Memorial Mass will be held on Saturday, October 3rd at Saint Pius X Church in Montville, NJ at 1:00 pm.
In lieu of flowers we humbly ask that you make a donation to one or more of Paul's favorite groups, Bugles Across America, Lincoln Park Archers, the Brady Campaign to prevent gun violence or the NRA.
Please visit codeymackeyfh.com to share a condolence or a memory with the family.