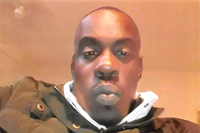 Fernando Lavar "Sheldon" Lynch
It is with great sadness that the family of Fernando Lynch announces his passing after an accident over a few years ago on Thursday, July 18, 2019 in New Brunswick, NJ, at the age of 37.
Fernando was born in Jamaica and migrated to the US at the age of 3 years. He resided in Montville, NJ and graduated from Montville High School. He then went on to Chubb Institute to study computer technology.
Fernando your smile would light up the world, you have a heart of an angel, you are to be missed by your family and friends. We were blessed to have had you in our lives for 37 years. Now you are in the hand of our Heavenly Father, sleeping until we meet again on the other side.
He will be remembered by his parents, Perlie Lynch and Stanley Lynch; and by his 10 brothers, 3 sisters, aunties and uncles, lots of cousins, nieces and nephews.
Please join the family at the Codey & Mackey Funeral Home, 107 Essex Avenue, Boonton, NJ 07005 for a memorial visitation on Saturday, August 10, 2019 from 4- 6 pm with a time to share at 5:30 pm.