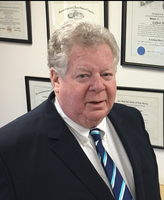 Clifford Jon Weininger, Esq.
Clifford J. Weininger, Esq. – age 74 of Denville, NJ passed away on Thursday, April 18, 2019. Cliff is survived by his beloved wife, Anna, his loving children Alex (Jared), Ashley (Kevin), and Alana (Joseph), as well as his adored grandchildren Kellan, Kendall, Kaleb, and Sebastian, and his cherished brother, Jeffrey.
Cliff grew up in Rockaway, NJ where he graduated from Morris Hills High School. He graduated from Penn State University and from Seton Hall Law School. He served as Deputy Attorney General for the Division of Criminal Justice for the State of New Jersey and as the former First Assistant Prosecutor for Morris County before opening his own law firm in Denville, NJ.
He touched the lives of countless individuals, from clients and colleagues, to his wide circle of family and friends. Cliff was an avid boater, fisherman, and lifelong fan of Penn State Football.
Funeral services will be held at Codey & Mackey Funeral Home, 107 Essex Ave. Boonton, NJ 07005 on Friday, April 19, 2019 commencing at 9:00am with interment to immediately follow at King Solomon Memorial Park, 550 Dwasline Rd. Clifton, NJ 07012. Shiva will be observed at the "Weininger" residence, 58 Old Boonton Rd. Denville, NJ 07834 immediately following burial from 3:00pm – 7:00pm and Saturday from 3:00pm – 7:00pm.