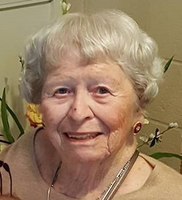 Ann Denise Korinda
Ann Denise Korinda, 91, of Boonton, NJ, passed away on Wednesday, February 7, 2018, in Denville, NJ
Born in Akron, Ohio, raised in Linden, NJ, Ann lived the past 68 years in Boonton.
Ann attended Trenton State Teachers College (now TCNJ). There she met the love of her life, Andrew Korinda, Jr. In 1947 at the age of 20, she graduated from that college and married Andrew.
Ann earned a master's degree in education from Newark State College (now Kean University). She was a passionate, creative, and dedicated teacher. The first special education teacher in Morris County, she ended her career as a 4th grade teacher in Mountain Lakes. She loved teaching New Jersey and colonial history, to this day many of her students fondly remember making apple dolls.
In 1948, she gave birth to her first child, Don. Pregnant with second son, Ann played Mary in a church pageant in the Advent season of 1951. Don and his grandmother attended Ann Denise's performance. When Mary and Joseph were turned away from the inn, Don shouted, "There's no room for my mommy!"
Ann was an avid reader of historic novels. Her favorite pastime was clipping articles of newspapers and magazines and delivering them to the appropriate family or friend with a card or personal note.
Ann also loved to travel. She and Andrew took two transcontinental camping trips across the U.S. and Canada. They toured all fifty states and numerous foreign countries, visiting friends along the way. When she retired, she said that she wanted to spend time with her grandchildren. Her faculty colleagues knew better. They gave her a set of luggage as her retirement gift – she never looked back!
Mrs. Korinda was a member of the Rockaway Valley Garden Club, the Boonton Historical Society, Mountain Lakes Chapter of AAUW, Holmes Library Book Club, Elderhostel (now Road Scholars), New Jersey Historical Society, and the Retired Teachers of Morris County.
Ann was a devoted member of the Boonton United Methodist Church where she served on many church committees over the years including the UMW (United Methodist Women) and Church Women United.
She is survived by two sons and their wives: Don and Elisabeth of Midland, Michigan, Larry and Karen of Boonton Township; grandson Andrew W. and his wife Christina, and granddaughter Corey; and great-grandson Liam Korinda.
Friends may call on Friday, February 23, from 3 to 7 p.m. at the Codey & Mackey Funeral Home, 107 Essex Ave., Boonton, NJ. A celebration of Ann's life will be held on Saturday at 11 a.m. at the Boonton United Methodist Church. To share a memory or condolence, please visit www.codymackeyfh.com
In lieu of flowers, the family requests memorial donations be sent to Boonton United Methodist Church, 626 Lathrop Ave., Boonton NJ 07005.