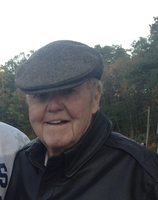 James Joseph "Red" Connors
James Joseph "Red" Connors, 85, of Mountain Lakes, NJ, passed away at home on Sunday, January 21, 2018 surrounded by his loving family.
Born in Bayonne, NJ to William and Anne (Clarke) Connors, he was joined by siblings Ellen and William. He lived there, then in Mountain Lakes for nearly 50 years. He cherished his life-long friendships.
Jim received an athletic scholarship to Fordham University, where he earned a B.A. in Economics, and later a Juris Doctorate. He was a corporate lawyer focusing on real estate.
Red was the catcher on the 1949 State Champion baseball team, and the Captain of the 1951 State Champion basketball team. He is a member of the Bayonne High School, and Hudson County, Halls of Fame. While at Fordham, he was a member of four NCAA tournament teams in basketball and baseball.
Jim served his country as a navigator in the U.S. Air Force, attaining the rank of Captain.
He was predeceased by his beloved wife of 52 years, Ellen (Parks). Surviving are his devoted children: William F., James J., II and his wife, Susann, MaryAnne C. Brennan and her husband, Michael Prevoznik, Kathleen C. Smith and her husband, James; loving grandchildren, Nell, Mary Kate, Beth, Allison and Jimmy Connors, Kady, Bubba, Jane and Bo Brennan, Connor, Jack and Maggie Smith; many nieces and nephews; sister-in-law, Isabel Shaughnessy.
He was a devoted husband, father, Pop-Pop, Uncle Wonderful, and friend. His love remains.
A Memorial Mass will be celebrated on Monday, April 2, 2018 at 11:00 am in St. Catherine of Siena R.C. Church, 10 N. Pocono Road, Mountain Lakes, NJ 07046. Arrangements entrusted to the Codey & Mackey Funeral Home of Boonton, NJ. To share a memory or condolence, please visit www.codeymackeyfh.com. Memorial contributions, in lieu of flowers, may be made in Jim's memory to Morris Catholic High School, 200 Morris Ave., Denville, NJ 07834.