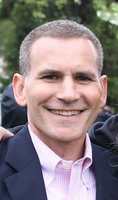 Christopher John Gallo
Beloved
Christopher John Gallo, passed away on Saturday, April 1, 2017, leaving his wife and children in loving care of family and friends.
The family will receive friends at the Codey & Mackey Funeral Home, 107 Essex Avenue, Boonton, NJ 07005 on Friday, April 7th from 5-8pm. The service and interment are private. To extend a condolence or share a memory, please visit www.codeymackeyfh.com.
Born in Brooklyn, NY to Thomas and Patricia (Siddons) Gallo, Chris grew up with his four brothers and three sisters.
He is survived by his wife, children, parents, brothers, sisters, nieces, nephews, extended family and friends.
In lieu of flowers, please go to http://www.gofundme.com/christopherjohngallo